1. Expert Technology
Solar Archive's architecture and delivery model empowers Cloud service providers to host their own self-branded email archiving solution quickly and cost effectively. The pride of Solar Archive lies within our proprietary indexing architecture, without the use of a database (and hence additional costs) that offers our users fast and unaffected search performance regardless of email data growth.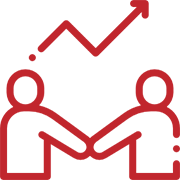 2. Dedicated partnership
Unlike other email archiving vendors, Solar Archive exists solely to collaborate and partner with Cloud service providers. Every detail from our technology, training and support program and sales engagement is catered specifically for partners. We also provide dedicated marketing support to empower the sales success of our partners.

3. Commercially Attractive
Solar Archive is a great technology to sell as a Cloud Provider. It is both a fantastic cross-sell to existing customers, as well as winning new customers. It is specifically designed with technologies to minimise hosting cost that allows our partner to reap the benefits of an especially high gross margin, without having to own and develop the IP. The combination of high revenue and high margin means that we help Cloud providers hit their growth targets whilst delivering an essential technology their customers need.
The email archiving market is accelerating
Solar Archive is your competitive advantage to retaining your customer and creating an additional revenue stream.
Yes, I want more revenue
We expect public cloud/SaaS archiving solutions to account for 60% of total market revenue by 2021
IDC Worldwide Archiving Software Forecast, 2017–2021
Market Annual Growth Rate
Read More in Our Market Analysis Whitepaper
In our Market Analysis Whitepaper, we break down the email archiving market size and explain how Solar Archive gives you the advantages of offering email archiving as a hosted service to stay ahead of your competition.
Download here
More Info
Address: Wigglesworth House, 69 Southwark Bridge road
London SE1 9HH, United Kingdom
Phone: +44 (0) 800 280 0525
Business Hours: 9:00am - 5:00pm, Monday - Friday