Why your customers need email archiving?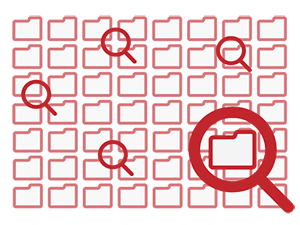 1. Email compliance & growth
Normally, organizations need to keep their emails for seven or more years to meet regulations, good practice and corporate governance standards, which makes archiving essential.
As email usage continues to grow, a Cloud email archive is something they'll continue to need for the foreseeable future. Our partners find Solar Archive an easy way to capture new customers and hold onto current customers to reduce churn and increase average revenue per user.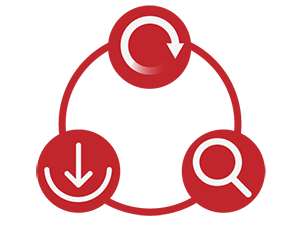 2. Enhancing Office 365
Many organizations use Microsoft Office 365, whilst it does have a built-in 'archiving' function but did you know?
Office 365 doesn't archive externally, so there's an increased risk of data loss should outages occur
It isn't tamper-proof archiving; in fact, altering an email, either accidentally or maliciously, is easy in Office 365
It's slow in retrieving emails when users search for them – a big impediment to eDiscovery investigations
Whether you have customers in the process of migrating to Office 365 or already on Office 365, there are ways for you to start a conversation regarding email archiving.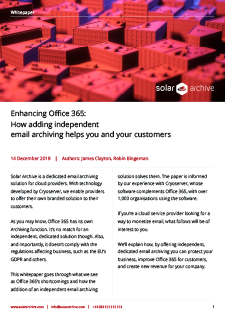 Download the Enhancing Office 365 Whitepaper
In our Enhancing Office 365 Whitepaper, we break down the various email and archiving issues of relying solely on Office 365 and explain how Solar Archive help address all the feature gaps of Office 365.
Over 60% of a business's data is stored in email, much of that is found nowhere else.
IDC
More Info
Address: Wigglesworth House, 69 Southwark Bridge road
London SE1 9HH, United Kingdom
Phone: +44 (0) 800 280 0525
Business Hours: 9:00am - 5:00pm, Monday - Friday